BougeRV | Portable Fridge Detachable Battery
The BougeRV Fridge Battery is the perfect companion for your portable fridge, providing reliable power on-the-go. This detachable battery is designed to work seamlessly with BougeRV portable fridges, offering extended operating time and ensuring your food and beverages stay cool for longer periods.
With its high-capacity and efficient performance, this battery is ideal for camping trips, road trips, and outdoor adventures.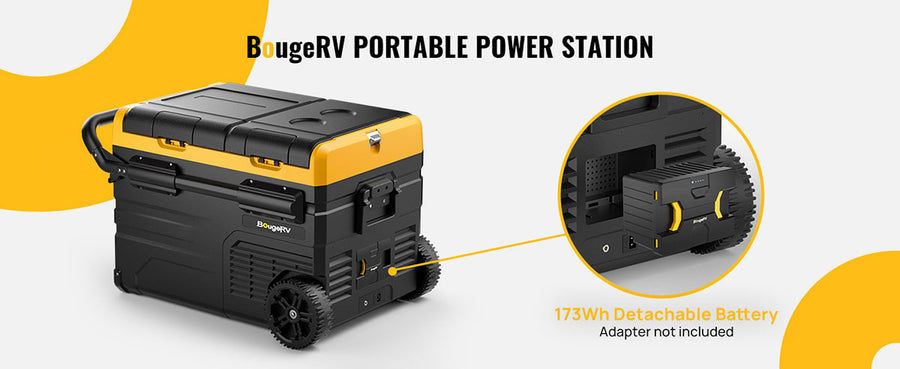 Features
Unique Design
This detachable battery is suitable for the BougeRV CR35 CR45, CR55, E35, E45 and E55 refrigerators. It is an excellent backup add-on to compliment your BougeRV portable refrigerator.


Large Battery Capacity
With a battery capacity of 173wh/15600mah, a working temperature set at -20℃, the battery can be used for a CR8 refrigerator for 6-8 hours and CR35-55 refrigerator for more than 4 hours. 

Improved Design
The squeeze buckle design simplifies the installation and removal process, and the real-time battery power and voltage is displayed on the control panel, so you know the batteries functionality at all times.

Simple Switch
Long press the power button to turn the battery on/off. When charging, the power indicator will turn green.

Charge Methods
You can charge it with a portable refrigerator (DC 12/24V and AC 100-240V) or solar panel (12-50V). It is suggested to switch off the refrigerator when charging the battery and place the refrigerator in a cool place to dissipate heat.

Quick Charge: Use a 12V/24V adapter to charge the battery for about 3.5 hours to fully charge. Note: do not disassemble the battery.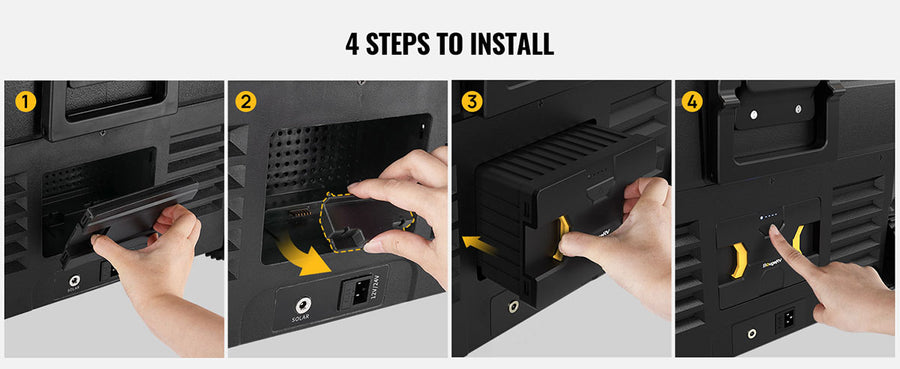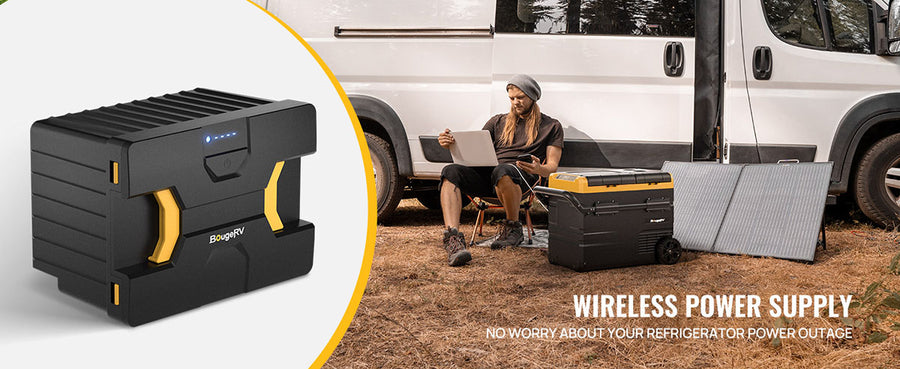 Specs
Product Specifications
• SKU E0404-17306
• Product Type 12V Refrigerator
• Type: pluggable
• Rated CapacityT 15.6Ah
• Nominal Voltage 11.1V
• Open Voltage 10.8V~11.7V
• Cut-off Voltage 8.0V
• Charge Voltage 12.6V
• Standard Charge Current 3120mA
• Standard Discharge Current 3120mA
• Max Charge Current 7800mA Max
• Continuous Discharge Current 10000mA
• Operating Temperature Charging: 50℉~113℉
• Discharge: -4℉~140℉
• Storage Temperature -4℉~86℉
• Certificates CB
• Compatible Fridge Model BougeRV CR8, CR35 CR45, CR55, E35, E45 and E55 refrigerators.

BougeRV Warranty & Returns
 Return Policy
1.) If for any reason you are not completely satisfied with your purchase, you can return your purchases within 30 days of receipt, as long as the BougeRV products returned are new, undamaged and unmodified. In this case, BougeRV does not cover shipping costs for returns. If your item does not meet these requirements, we cannot guarantee that your item will be accepted for a return or exchange. 
2.) BougeRV will cover the shipping costs if you were shipped a defective or incorrect product. 

3.) If your purchase is out of stock, we will send you a notification and offer you the option to cancel the order or wait for your order to get back in stock.
4.) Please do not return products without contacting us, as the address on the original package may not be the same as our return address.
5.) Please note that BougeRV does not accept returns with product modifications as modifications to our products void our warranty policy. Any modified product received will be returned at the owner's expense.
6.) If you need further assistance, please contact our customer service at sales@romeosolar.com. We are more than happy to help!
Warranty
Please visit the warranty registration page for more information.