BougeRV | FORT 1500 Portable Power Station | 1456Wh LiFePO4
Introducing the Fort 1500 portable power station - with a massive 1456Wh capacity, 2200W output, and Faster 400W Solar Charging technology.
Perfect for powering your electronic devices on the go, this power station is equipped with high-performance lithium iron phosphate battery cells for safe and reliable use. Stay connected and powered up wherever life takes you with the Fort 1500.

Features 
Learn More About the BougeRV Power Station  
Massive 2200W Output Powers All Your Essentials
The BougeRV Fort 1500 Portable Power Station is your go-to solution for powering all your AC household appliances or large electrical devices when traveling, camping or on work sites. With a massive 2200W output, it can power full-size refrigerators, CPAP machines, TVs, heaters, electric grills, electric blankets, smartphones, laptops, and more.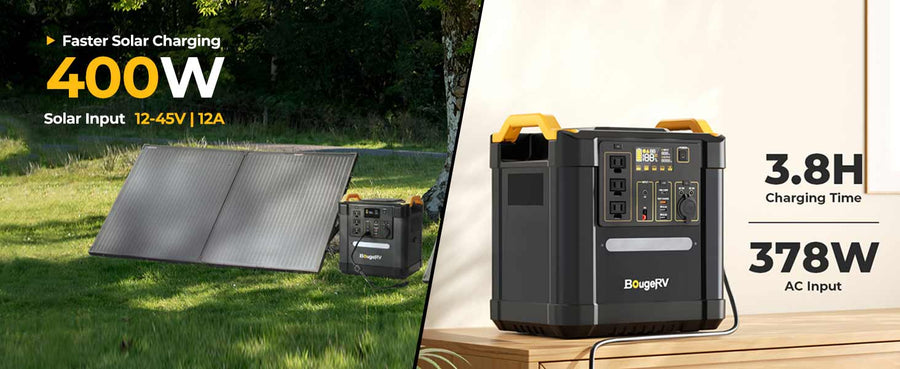 Faster 400W Solar Charging for Endless Power
The Fort 1500 Portable Power Station has 400W solar charging, which means you can fully charge it in just 3.8 hours by connecting 2 pieces of 200W solar panels. This makes it incredibly convenient to get endless solar power when outdoors, saving you lots of money. When you're at home, you can immediately charge it in 3-4 hours by AC charging, making it a great home backup battery for accidents.
Premium LiFePO4 Battery for Safety and Reliability
The BougeRV Fort 1500 Portable Power Station adopts a premium LiFePO4 battery, which has a 3500+ life cycle and a massive 1456Wh capacity. This makes it much safer and built to last with its aluminum shell. Plus, the built-in advanced BMS system offers good protection, keeping your battery running for years.
Charge Anywhere, Anytime
The built-in professional MPPT technology enables efficient solar charge management, allowing the power station to charge at peak efficiency. You can charge it by AC outlet, solar panel, or car socket, so you never have to worry about power, even when you're camping outside or living off the grid.
Specs
Product Specifications
• SKU: ISE164
• Capacity: 1456WH
• Cycle Life: 3500+ Cycles to 80% Capacity
• DC5521 Charge: 12-45V , 8A 200W MAX ( Car Charging 140W Input )
• PV Solar Recharge: 12-45V , 12A 400W MAX
• AC Charge ( XT90 ): 25.2V, 15A 378W MAX
• Battery LiFe: PO4
• Cigarette & DC5521 Output: 14V, 10A 140W MAX TOTAL
• USB-A Output: 2 X 5V / 2.4A 12W
• USB-A QC3.0 Output: 1 X 5V / 3A,15W; 9V /2A, 18W
• USB-C Output: 1 X 5/9/12/15/20V, 3A 60W MAX
• Product Dimension: 12.6 X 9 X13.4 INCHES(L*W*H)
• Weight: 18kg/39.7Lbs

User Manual
BougeRV Warranty & Returns
 Return Policy
1.) If for any reason you are not completely satisfied with your purchase, you can return your purchases within 30 days of receipt, as long as the BougeRV products returned are new, undamaged and unmodified. In this case, BougeRV does not cover shipping costs for returns. If your item does not meet these requirements, we cannot guarantee that your item will be accepted for a return or exchange. 
2.) BougeRV will cover the shipping costs if you were shipped a defective or incorrect product. 

3.) If your purchase is out of stock, we will send you a notification and offer you the option to cancel the order or wait for your order to get back in stock.
4.) Please do not return products without contacting us, as the address on the original package may not be the same as our return address.
5.) Please note that BougeRV does not accept returns with product modifications as modifications to our products void our warranty policy. Any modified product received will be returned at the owner's expense.
6.) If you need further assistance, please contact our customer service at sales@romeosolar.com. We are more than happy to help!
Warranty
Please visit the warranty registration page for more information.