Features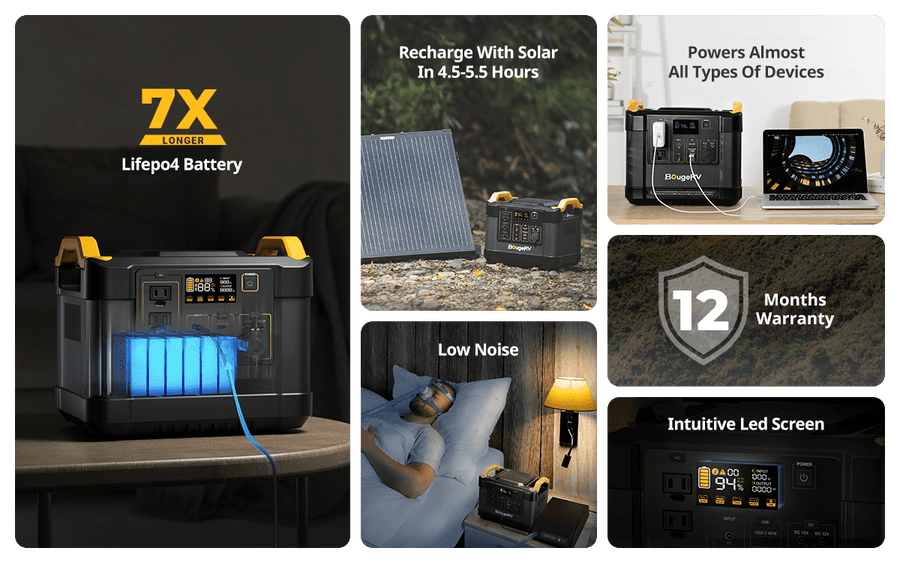 Learn More About the BougeRV Power Station 
Premium LiFePO4 Battery for Safer and More Reliable Power
With a massive 1120Wh capacity, the BougeRV Fort 1000 portable power station features a top-of-the-line LiFePO4 battery that offers superior safety and longevity with over 3500 cycles. With an advanced BMS system, the LiFePO4 power station provides maximum protection, safeguarding your battery and keeping it running strong.
LED Smart Screen for Easy Monitoring
The high-clear LED screen provides real-time information on battery capacity, charging status, recharging status, and error information, making it easy to monitor the power station's performance. You can also easily wake up the screen when you need it.
Stable Run Perception for Car Fridges
Unlike other portable power stations, the BougeRV Fort 1000 Portable Power Station is specifically designed to fit your car fridge perfectly, ensuring that it runs efficiently without any interruptions. You no longer need to worry about your food getting spoiled or missing out on the cooling effect ever again.
Diverse Output for All Your Essential Needs
With a powerful 1200W output, the Fort 1000 Portable Power Station can easily power all your appliances, making it perfect for household appliances or large electrical devices on trips, camping or work sites. It can power full-size refrigerators, CPAP machines, TVs, heaters, electric grills, electric blankets, smartphones, laptops, and more.
Compact, Portable, and Low-Noise Design
BougeRV's Fort 1000 Portable Power Station is designed with dual handles for easy carrying, making it perfect for travel. You can also place it in your trunk without worrying about taking up too much space. The premium aluminum shell provides excellent heat dissipation and low noise, ensuring that it doesn't disturb your sleep or activities.
Fast Recharging
Our Fort 1000 Portable Power Station is equipped with professional MPPT technology, allowing for efficient solar charge management. It takes only 4.5-5.5 hours to recharge a Portable Power Station with the Bouge RV solar panel (sold separately) and USB-C PD 60W in the wild, and only 4.5 hours via a 200W wall outlet and USB-C PD 60W at home.
Specs