BougeRV | CR55 59 Quart (55L) Portable Fridge / Freezer
The CR55 59 Quart (55L) Portable Refrigerator Freezer is a reliable and efficient solution for cooling and freezing food and beverages while on the go. With a large 55-liter capacity, it can accommodate all your storage needs.
It's equipped with a high-performance compressor that can reach temperatures as low as -4°F (-20°C). Its robust design makes it tailored for outdoor use, and it's compatible with both 12V and 24V DC power sources.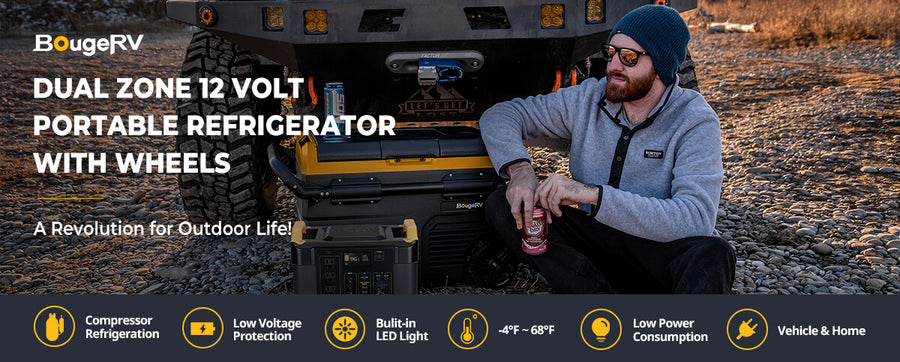 Features
True Dual Zone
This 12v portable refrigerator boasts two independent compartments that can be controlled separately. It can function as both a fridge and a freezer simultaneously, allowing you to cool drinks and chill meat all at once.

App Control
Easily and accurately control the temperature, set modes, and power on/off from your mobile phone. Monitor the temperature and status of your device anytime. You can control the left or right compartment separately, depending on your needs. Both temperature ranges are from -4°F to 68°F. The digital panel can also be locked to prevent accidental touches. Refer to the user manual to download the app.
Fast Cooling
With compressor refrigeration technology, the BougeRV CR55 can achieve rapid cooling in just 15 minutes, keeping food fresh (68°F~32°F).
Two Cooling Modes
In ECO mode, the working power of the BougeRV CR45 is less than 45W. In MAX mode, the power consumption of its smart cycle operation is well below 1kWh per day.
Specs
Product Specifications
• SKU: E0401-05501
• Product Type 12V Refrigerator
• Model: CR55
• Rated PowerInput: 60W
• Rated Voltage: DC12V/24V,AC100~240V(using the adapter),Solar(12~50V)
• Noise Emission ≤45dB
• Capacity: 59 Qt=55 L=1.94 cu. ft.
• Temperature Range -20℃~20℃(-4F~68F)
• Climate Class T/ST/N/SN
• Dimensions(D*W*H) 18.2x28x22.5 inch
• Weight 44.75lb.
• Warranty: 24 months
BougeRV Warranty & Returns
 Return Policy
1.) If for any reason you are not completely satisfied with your purchase, you can return your purchases within 30 days of receipt, as long as the BougeRV products returned are new, undamaged and unmodified. In this case, BougeRV does not cover shipping costs for returns. If your item does not meet these requirements, we cannot guarantee that your item will be accepted for a return or exchange. 
2.) BougeRV will cover the shipping costs if you were shipped a defective or incorrect product. 

3.) If your purchase is out of stock, we will send you a notification and offer you the option to cancel the order or wait for your order to get back in stock.
4.) Please do not return products without contacting us, as the address on the original package may not be the same as our return address.
5.) Please note that BougeRV does not accept returns with product modifications as modifications to our products void our warranty policy. Any modified product received will be returned at the owner's expense.
6.) If you need further assistance, please contact our customer service at sales@romeosolar.com. We are more than happy to help!
Warranty
Please visit the warranty registration page for more information.