BougeRV | CR35 37 Quart (35L) Portable Fridge / Freezer
Keep your food and drinks fresh and well-preserved on the go with the CR35 37 Quart Portable Refrigerator Freezer. This compact and versatile design features a 35L capacity and can easily store and chill up to 48 cans.
The adjustable temperature control and digital display make it simple to monitor and maintain the desired temperature for your food and drinks. Perfect for road trips.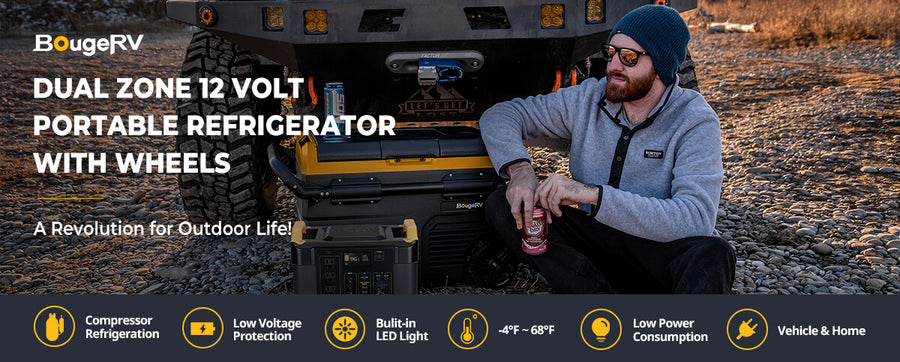 Features
True Dual Zone
BougeRV 12 Volt refrigerator features dual zones with independent temperature control. 25L (26.59 quarts) on the left side plus 10L (10.63 quarts) on the right side equals 35L (37 quarts). It can be used as a refrigerator and freezer at the same time, but it can also be a refrigerator and a refrigerator, or a freezer and a freezer, so you can cool drinks and refrigerate meat at the same time.
Our Handy App Puts the Power In Your Hands
Download the app to easily and accurately control and adjust setting from your smartphone. Note: Refer to the user manual for instructions on how to download the app.
Rapid Cooling
Advanced compression refrigeration technology means the BougeRV CR35 only takes 15 minutes to cool from 68°F down to 32°F.
Two Cooling Modes
BougeRV CR35 offers two power consumption options: ECO mode and MAX mode. The energy-saving ECO mode uses 45W. The MAX mode is below 1kWh per day.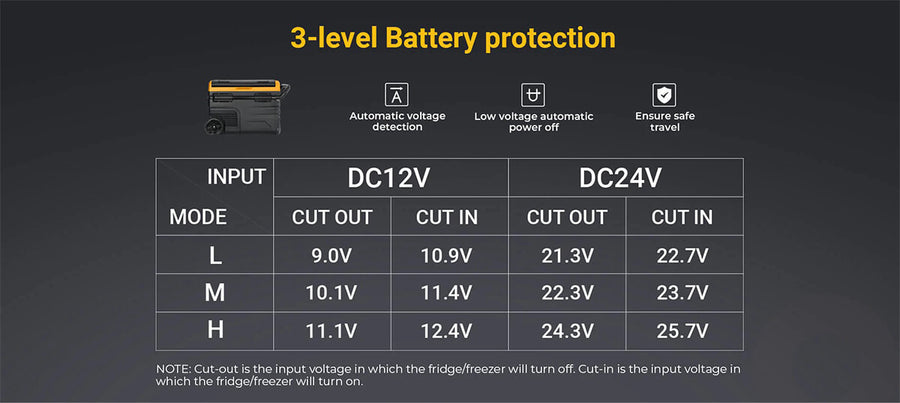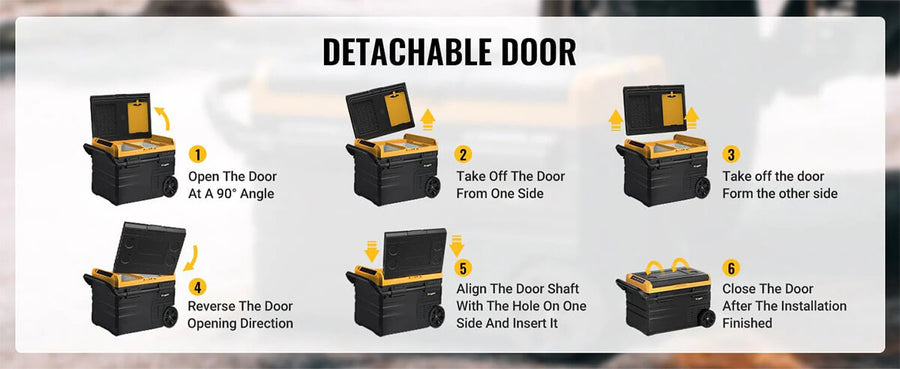 Specs
Product Specifications
• SKU E0401-03501
• Model: CR35
• Rated PowerInput: 60W
• Rated Voltage: DC12V/24V,AC100~240V(using the adapter),Solar(12~50V)
• Noise Emission ≤45dB
• Capacity: 37Qt/35L/1.3Cu.Ft.
• Temperature Range: -20℃~20℃(-4F~68F)
• Climate Class: T/ST/N/SN
• Dimensions(D*W*H): 711*460*441 mm (27.99*18.11*17.36 inch)
• Weight: 19.1kg/42.1lb.
• Warranty: 24 months
• SKU: E0401-03501
• Product Type: 12V Refrigerator

BougeRV Warranty & Returns
 Return Policy
1.) If for any reason you are not completely satisfied with your purchase, you can return your purchases within 30 days of receipt, as long as the BougeRV products returned are new, undamaged and unmodified. In this case, BougeRV does not cover shipping costs for returns. If your item does not meet these requirements, we cannot guarantee that your item will be accepted for a return or exchange. 
2.) BougeRV will cover the shipping costs if you were shipped a defective or incorrect product. 

3.) If your purchase is out of stock, we will send you a notification and offer you the option to cancel the order or wait for your order to get back in stock.
4.) Please do not return products without contacting us, as the address on the original package may not be the same as our return address.
5.) Please note that BougeRV does not accept returns with product modifications as modifications to our products void our warranty policy. Any modified product received will be returned at the owner's expense.
6.) If you need further assistance, please contact our customer service at sales@romeosolar.com. We are more than happy to help!
Warranty
Please visit the warranty registration page for more information.