BougeRV | Aspen 40 | 12V 43 Quart IceDrive Portable Fridge
Featuring a regular dual zone control system and the innovative IceDrive™ technology, BougeRV Aspen 40 12V 43 quart portable refrigerator makes it easy to combine the freezer and fridge as you need.
With the IceDrive™ System, you can cool your items down to 0°F in just half an hour and keep them below 0°F, even as low as -9°F. If you are an ice cream lover, then this portable fridge is a must-buy.
It's great for RV, outdoor camping, boating, fishing, boating, and road trips. You can charge it using multiple methods, including 12V/24V DC power, 110V-240V AC home power, and solar panel charging. Invest in the Aspen 40 portable fridge today. 
Dual-System Portable Refrigerator
The ASPEN 40 portable refrigerator has the world's first dual system (regular dual zone system + IceDrive system).
In addition to having the regular dual zone control system, we have additionally designed the IceDrive system for ice cream lovers, which keeps the ice cream zone always below 0°F and allows you to store other frozen food.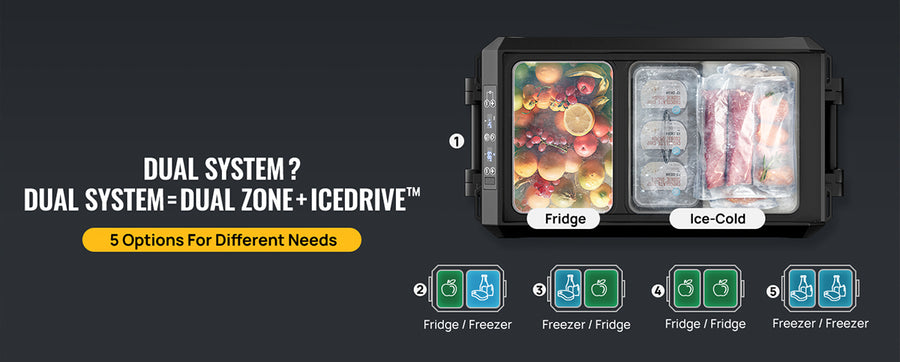 The unique IceDrive™ system provides Ice-cold/Fridge mode, the Ice-cold zone can be cooled to -4 °F at the touch of a button. This Ice-cold zone can maintain a constant low temperature at 0 °F ~ -9 °F (not subject to any environmental factors) so you no longer worry about ice cream melting.
The other zone can be adjusted from 37 to 68 °F to keep other foods fresh. (Note: 30 min pre-cooling is required before putting in ice cream).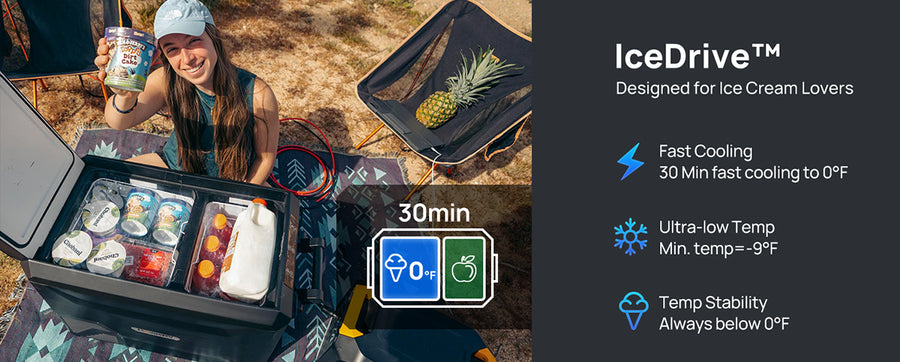 External Battery Holder for 220Wh Power Station
An innovative external battery holder design allows for extra storage space inside the refrigerator, allowing for more capacity to stock up and store more of what you need! (Note: Add-on battery is optional).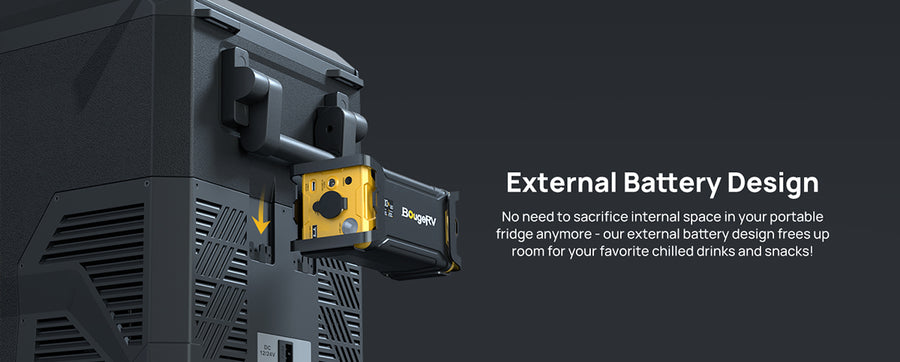 Excellent and Fast Cooling
Once the IceDrive™ is activated, the ASPEN 40 can reach 0℉ in 30 minutes beating most of our competition by a mile!

Lower Power Consumption
With its ECO mode, the ASPEN 40 operates on less than 48W of power, marking it as an energy-efficient companion for all your outdoor adventures. When switched to MAX mode, it smartly cycles through power ensuring maximum performance and minimal consumption.

Multiple Charging Methods
• 12V/24V DC Power
• 110V-240V AC Home Power
• Solar Panel Charging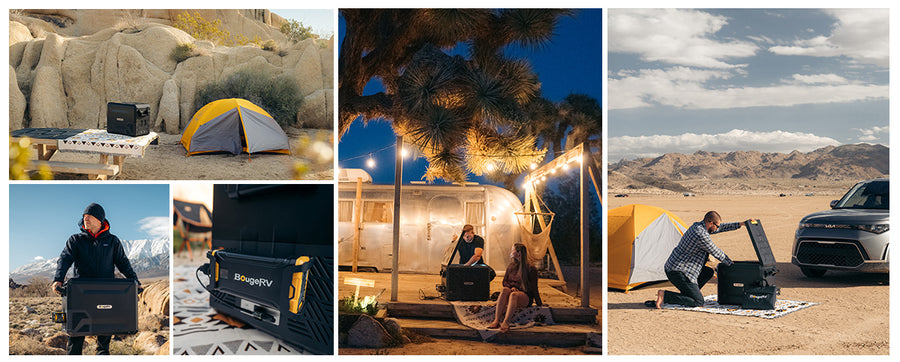 What's Included?
*220Wh Battery is Optional to Add
Specs
ASPEN 40 Specifications:
• SKU: E0401-04101
• 
Model: ASPEN 40
• 
Rated Voltage: DC12V/24V,AC100~240V(using the adapter),Solar(12~50V)
• 
Capacity: 43Qt/41L
• 
Climate Class: T/ST/N/SN
• 
Weight: 17.9kg/39.5lb.
• 
Rated Power Input: 60W
• 
Noise Emission: ≤45dB
• 
Temperature Range: -20℃~+20℃(-4°F~+68°F)
• 
Dimensions(D*W*H): 710*370*498 mm (28*16.2*20.6 inch)
• 
Product Type: 12V Refrigerator
• 
Warranty: 2+2 Years
220Wh Add-On Battery Specifications:
• SKU: E0404-02201
• 
Capacity: 220WH
• 
Net Weight: 1.5KG/3.3LBS
• 
Product Dimensions: 7.08*3.3*3 Inches
• 
Solar Recharge: 12-28V, 6A 100W Max, 2 Hours 0-80%
• 
Car Recharge: 12V/6A, 72W Max, 3 Hours 0-80%
• 
AC Recharge: 12.6V/5A, 63W Max, 3.2 Hours 0-80%
• 
Type-C Recharge: 20V/3A, 60W Max, 3.2 Hours 0-80%
• 
Car Charging Output: 14.5V/9A, 130W Max
• 
Type-C Output: 5V/9V/12V/15V/20V, 3A 60W Max
• 
USB-A Output: R-134a5V/3A, 9V/2A, 12V/1.5A 18W Max
Videos
BougeRV Warranty & Returns
 Return Policy
1.) If for any reason you are not completely satisfied with your purchase, you can return your purchases within 30 days of receipt, as long as the BougeRV products returned are new, undamaged and unmodified. In this case, BougeRV does not cover shipping costs for returns. If your item does not meet these requirements, we cannot guarantee that your item will be accepted for a return or exchange. 
2.) BougeRV will cover the shipping costs if you were shipped a defective or incorrect product. 

3.) If your purchase is out of stock, we will send you a notification and offer you the option to cancel the order or wait for your order to get back in stock.
4.) Please do not return products without contacting us, as the address on the original package may not be the same as our return address.
5.) Please note that BougeRV does not accept returns with product modifications as modifications to our products void our warranty policy. Any modified product received will be returned at the owner's expense.
6.) If you need further assistance, please contact our customer service at sales@romeosolar.com. We are more than happy to help!
Warranty
Please visit the warranty registration page for more information.