BougeRV | 60A MPPT Solar Charge Controller with Bluetooth 12V/24V
Features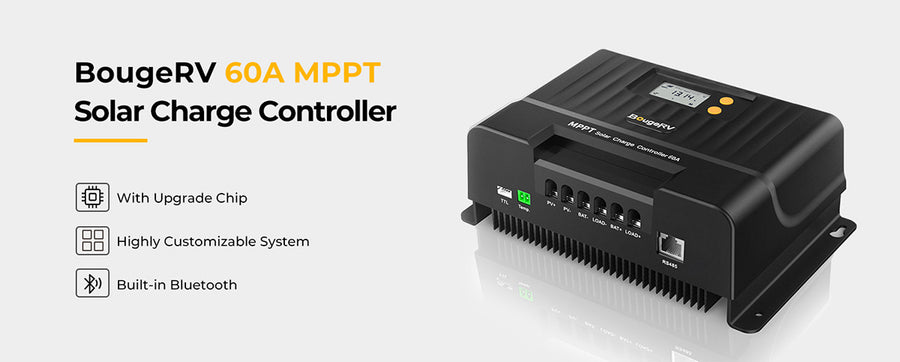 Remote APP Control
Please make sure that the Bluetooth is on before pairing your phone with the controller.
• Scan the code on the user manual.
• Make sure the battery type and system voltage setting on the controller matches your battery (batteries) specification.
• Please send your battery specification to us if you have any questions about using BougeRV MPPT solar charge controller.
Universal Compatibility
Supports multiple battery types for 12v or 24v, SLD, GEL, FLD, LiFePO4, and user-defined battery. If your battery has been over-discharged, this battery regulator can help you activate your battery.
Custom System
Able to modify the charging current for your battery, and features 17 load operating modes, capable of handling capacitive loads and inductive loads.
Active Shield
Certified by CE and RoHS. With 6 protections, over-temperature, open-circuit, short-circuit, overload, polarity reverse prevention circuit, flow backwards of current protections. BougeRV's MPPT solar charge controller features a dual MOS circuit to prevent the reverse current and to reduce the heat in operation. Maintain your battery all the time. With a quality aluminum radiator and high-temperature derating treatment, it can work efficiently in various conditions.
Quality And Warranty
Adopt MPPT with tracking efficiency up to 99.9%, BougeRV MPPT solar charge controller supports full-power charging and discharging at one time. We offer 18 months warranty and lifetime tech support from the date of purchase.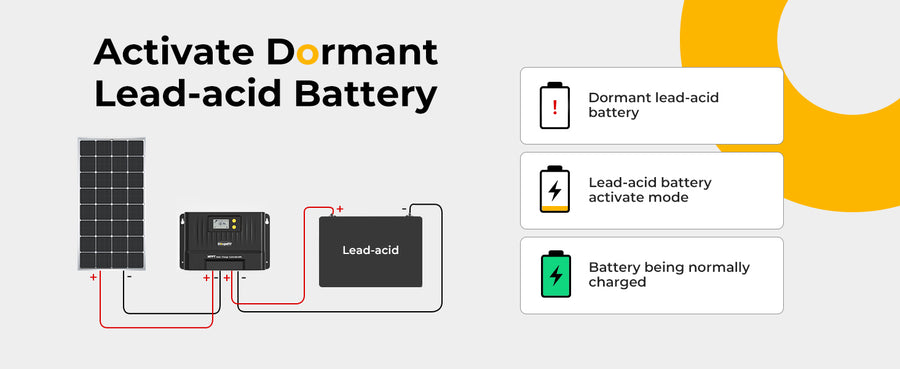 Specs
Product Specifications
• SKU: ISE198
• System Voltage: 12V/24V
• Battery Type LiFe: PO4, SLD, GEL, FLD, AGM, User Defined
• Rated Charging Current: 60A
• Grounding Type: Common Negative
• Rated Load Current: 20A Operating
• Temperature Range: Operating Temperature Range
• Max Solar Input Power: 900W/12V; 1800W/24V
• Protection Grade: IP34
• Max Solar Input Voltage: 100V (95V protection, 90V recovery)
• Data Storage: Save the last 200 days of historical data
• CC Operating Voltage Range (Battery voltage +2V): ~72V
• Dimension: 10.27L*7.32W*3.22H inches
• No Load Loss : ≤10mA
• Weight:  5.29 lbs

User Manual
BougeRV Warranty & Returns
 Return Policy
1.) If for any reason you are not completely satisfied with your purchase, you can return your purchases within 30 days of receipt, as long as the BougeRV products returned are new, undamaged and unmodified. In this case, BougeRV does not cover shipping costs for returns. If your item does not meet these requirements, we cannot guarantee that your item will be accepted for a return or exchange. 
2.) BougeRV will cover the shipping costs if you were shipped a defective or incorrect product. 

3.) If your purchase is out of stock, we will send you a notification and offer you the option to cancel the order or wait for your order to get back in stock.
4.) Please do not return products without contacting us, as the address on the original package may not be the same as our return address.
5.) Please note that BougeRV does not accept returns with product modifications as modifications to our products void our warranty policy. Any modified product received will be returned at the owner's expense.
6.) If you need further assistance, please contact our customer service at sales@romeosolar.com. We are more than happy to help!
Warranty
Please visit the warranty registration page for more information.