BougeRV | Solar Generator for Refrigerator Kit
Ensure continuous power for your refrigerator with a solar generator from BougeRV. Our solar generators are designed to provide reliable and sustainable energy to keep your refrigerator running, even in off-grid or emergency situations.
With various power options and capacity, you can find the perfect solar generator to match the needs of your refrigerator. Stay prepared and keep your food fresh with a solar generator for your refrigerator from BougeRV.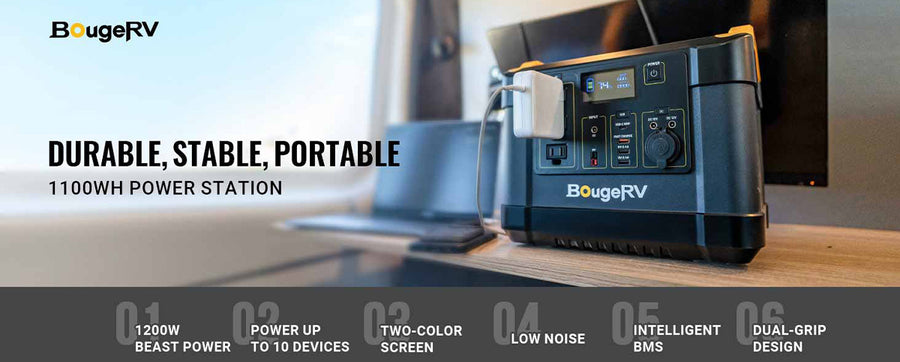 Learn More About the BougeRV Power Station
2X Longer Life
With an Aluminum Shell Battery Pack, the BougeRV Portable Power Station can be recharged over 1500 times, with 2X longer life than normal batteries. Ideal for home backup battery and outdoor power.
10 Ports For All
Features 3*110V Pure Sine Wave AC Outlets, 1*USB PD 60W (Input/Output Supported), 1*USB QC3.0 ports, 2*USB-A ports, 2*DC ports, 1*12V car charging port, great for AC household appliances or large electrical devices on trips, camping or work sites, such as a full-size refrigerator, CPAP machine, TV, heater, electric grill, heated blanket, coffee maker, mini fridge, smartphone, laptop, etc.
Strong But Quiet
Aluminum housing can withstand harsh environments, protecting the power station from damage. Good heat dissipation with an aluminum shell makes little noise.


Fast Recharging
Built-in professional MPPT technology enables efficient solar charge management, allowing the power station to charge at peak efficiency. It takes only 4.5-5.5 hrs to recharge a Portable Power Station with the Bouge RV solar panel and USB-C PD 60W in the wild, and only 4.5 hrs via a 200W wall outlet and USB-C PD 60W at home.
Key Features Of BougeRV's Foldable Solar Panel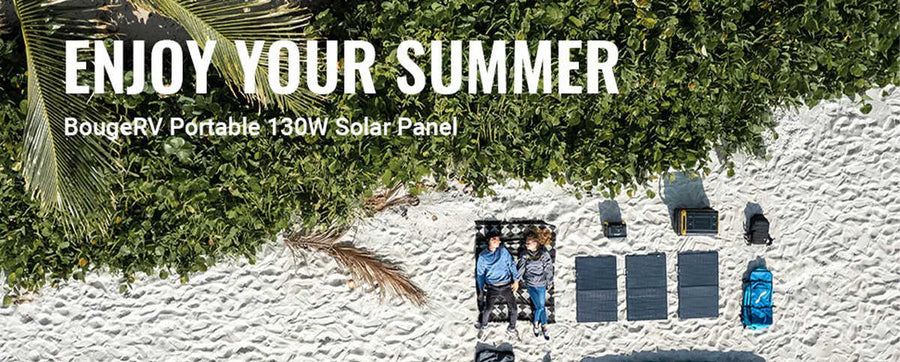 Innovative Technology - The BougeRV 130 Watt portable solar panel features innovative 9BB (9 Bus-Bar Cell) mono solar cells, which significantly increase efficiency up to 23.5% by reducing internal resistance loss, collecting current better, and expanding the active area of the panel compared to traditional 5BB cells.

Lightweight - Weighing only 12 pounds, this foldable solar panel is easy to carry anywhere, making your travels a breeze.
Portable
- With adjustable kickstands, twist latch, and protective bag included, this solar panel is foldable and easy to set up and pack up, making it perfect for any trip.
Compatibility
 - The 130W solar panel comes with a solar connector to DC adapter conversion cable, which allows it to charge any generator with DC 7909/DC 5521 input outlet. With the universal solar connector, the 18 volts solar panel can also charge traditional batteries, such as SLA, FLD, AGM, GEL, LiFePO4, and more.
Waterproof
- The panel features EVA, monocrystalline cell, PET, and superior metal frame construction, which meets IP67 waterproof level, ensuring that it can stand up to sudden rain during your camping trips.
Stable And Solid 
- The kickstand and frame are made of high-quality aluminum, ensuring that this 130 watt portable solar panel can stand stable on any terrain, including grass, sand, or rocky areas. It's the perfect reliable partner for all of your travels.
Key Features of BougeRV's Portable Fridge
True Dual Zone
This 12v portable refrigerator boasts two independent compartments that can be controlled separately. It can function as both a fridge and a freezer simultaneously, allowing you to cool drinks and chill meat all at once.
App Control
Easily and accurately control the temperature, set modes, and power on/off from your mobile phone. Monitor the temperature and status of your device anytime. You can control the left or right compartment separately, depending on your needs.
Both temperature ranges are from -4°F to 68°F. The digital panel can also be locked to prevent accidental touches.Note: Please refer to the user manual to download the app.
Specs
Power Station Specifications
• SKU: ISE120M
• Battery: Lithium-ion Battery
• Cycle Life: 1500+ Cycles to 80% Capacity
• Capacity: 1100Wh/50Ah
• PV Solar Recharge: 12-30V, 8A 200W Max
• DC Recharge: 12-30V, 8A 200W Max
• AC Output: 3 x 110V, 1200W (2000W Peak)
• Cigarette & DC Output: 2 x DC5521, 1x Cigarette Port, 120W Max Total
• USB-A Output: 2 x 5V/2.4A, 12W
• USB-A QC3.0 Output: 1 x 5V/3A, 15W; 9V/2A, 18W
• USB-C Output: 1 x 5V 3A / 9V 3A / 12V 3A / 15V 3A, 60W Max
• Operating Temperature: 32°F-105°F (0°C~40.5°C)
• Discharge Temperature: 14°F-113°F (-10°C~45°C)
• Charge Temperature: 32°F-113°F (0°C~45°C)
• USB-C Recharge: 5V 3A / 9V 3A / 12V 3A / 15V 3A /20V 3A, 60W Max
• Weight: 13.5kg/30Lbs
• Dimensions(LxWxH: 16 x 12 x 14 inches
• WARRANTY: 12 Months
Solar Panel Specifications
• SKU: ISE118N X0034FCBIN(1)
• Maximum Power(P max): 130±3% W
• Series Fuse Rating: 10A
• Open Circuit Voltage(VOC): 22.4V
• Operating Temperature Limits: -40℉ to +185℉
• Max. Power Voltage(VMP): 19.02V
• Waterproof Level: IP67 IP67
• Max. Power Current(IMP): 6.83A
• Dimensions (folded): 26.6*21*2 inches
• Short Circuit Current(ISC): 7.59A
• Dimensions (unfolded): 26.6*42*1 inches
• Solar Cells Efficiency: 23.5%
• Item Weight (kg/lb): 5kg/11lb
• Max. System Voltage: 1000V DC


Fridge Specifications
• SKU: E0401-05501
• Model: CR55
• Rated Power Input: 90W
• Rated Voltage: DC12V/24V,AC100~240V(using the adapter),Solar(12~50V)
• Noise Emission: ≤45dB
• Capacity: 59Qt/55L/2.0Cu.Ft.
• Temperature Range: -20℃~20℃(-4F~68F)
• Climate Class: T/ST/N/SN
• Dimensions(D*W*H): 711*460*571 mm (28.0*18.1*22.5 inches)
• Weigh:t 20.3kg/44.75lb
• Warranty: 24 months
• Product Type: 12V Refrigerator
User Manual
Download Solar Panel User Manual
Download Power Station User Manual
FAQ
What devices can it power?
A full-size refrigerator, CPAP machine, smartphone, laptop, blender, coffee maker, pressure cooker, microwave, camera, TV, heater, electric grill, blanket, etc.
Please check your device specification before purchase.
How long can the 1100Wh power my device?
You can use this formula to calculate: 1100WH * 0.9 / operating power of your device. The duration of our equipment is based on laboratory data, and the duration of specific equipment used may vary.
Can it charge and discharge at the same time?
Yes, the 1100Wh power station supports pass-through charging, but it will decrease the battery life, so it is not recommended.
How loud is it?
The noise level will be less than 40DB.
Is the 1100Wh power station waterproof?
The 1100Wh power station is not waterproof. Please do not store it in a humid environment for a long time.
BougeRV Warranty & Returns
 Return Policy
1.) If for any reason you are not completely satisfied with your purchase, you can return your purchases within 30 days of receipt, as long as the BougeRV products returned are new, undamaged and unmodified. In this case, BougeRV does not cover shipping costs for returns. If your item does not meet these requirements, we cannot guarantee that your item will be accepted for a return or exchange. 
2.) BougeRV will cover the shipping costs if you were shipped a defective or incorrect product. 

3.) If your purchase is out of stock, we will send you a notification and offer you the option to cancel the order or wait for your order to get back in stock.
4.) Please do not return products without contacting us, as the address on the original package may not be the same as our return address.
5.) Please note that BougeRV does not accept returns with product modifications as modifications to our products void our warranty policy. Any modified product received will be returned at the owner's expense.
6.) If you need further assistance, please contact our customer service at sales@romeosolar.com. We are more than happy to help!
Warranty
Please visit the warranty registration page for more information.