BougeRV | 400 Watt 12 Volt Solar Starter Kit
Power up your off-grid lifestyle with the 400 Watt 12 Volt Solar Starter Kit. This comprehensive kit includes two high-efficiency 200W solar panels, a charge controller, mounting hardware, and all necessary cables for an easy and efficient installation.
Features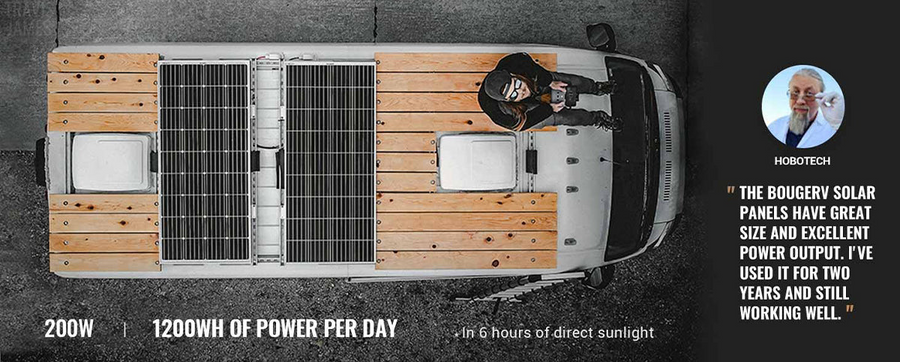 200W 12V 9BB Mono Solar Panel
 
Unmatched Conversion Efficiency: Our 9BB cell design boasts the highest conversion rate of 22.8%, ensuring maximum power output and longer service life and allowing you to charge 12V, 24V or 48V batteries by wiring multiple panels in series. Plus, a thinner ribbon reduces the covered area by 22%.

More Power in a Compact Design: Our 200W 9BB mono solar panel is approximately 8% smaller than others, yet generates more power. Compared to 100W panels, it's about 48% larger but produces 200% more power, giving you more power in limited space on your RV, van or trailer roof.
Package Includes:
• 2 Pieces 200 Watt Mono Solar Panel
• 40Amp MPPT Solar Charge Controller
• 
20ft 10AWG Solar Extension Cable 
• 
8ft 10 AWG Wire Copper Tray Cable
• 
Mounting Z Bracket Mount Kits 
• 
Solar Connectors Y Branch Connectors
Specs
Product Specifications
200 Watt Mono 9BB Solar Panel /40Amp MPPT Solar Charge Controller /20ft 10AWG Solar Extension Cable
• SKU: ISE114(KIT02-ISE114)
• Peak Power Pm (W): 200W Solar Cell: Monocrystalline & 9BB Cell
• Open circuit voltage Voc (V): 23.4V Package diameter: 59.45* 27.56* 2.56 in
• Max.power voltage Vmp (V): 19.8V Product diameter: 58.27* 26.38* 1.38 in
• Short circuit current Isc (A): 11.17A Net Weight : 29.54 lbs(13.4 kg)
• Max.power current Imp (A): 10.10A Warranty: 18 Months
• Solar cells Efficciency: 22.5%

• SKU: ISE059
• Nominal Voltage: 12V/24V Rated Charge Current: 40 A
• Max. PV Input Voltage: 92V(25℃);100V(Lowest ambient temperature)
• Operating Temperature: -31 °F to 113 °F
• Weight: 2.66 lb
• Dimensions: 8.07 x 5.51 x 3.15 inches
• Maximum PV input power: 550W/12V; 1100W/24V
• Charging conversion efficiency: ≤98%
• MPPT tracking efficiency: >99% IP rating: IP32
• Product Type Solar Kits

• SKU: ISE003-B021
• Rating Voltage: -DC :1.8KV -AC: 0.6~1KV
• Degree of Protection: IP65
• Fire Rated: IEC60332-1
• Temperature: -40~﹢90℃
• Service life: >25 years( -40~﹢90℃)
• Weight: 2.2 pounds
• Wire Gauge: 10AWG
• Length : 20Ft
• Normal Cross Sectional Area of the Conductor (mm2): 6.0

8ft 10AWG Wire Copper Tray Cable /Mounting Z Bracket Mount Kits /Solar Connectors Y Branch Connectors
• SKU: ISE107
• Specification: 8ft 10awg (6 square meters)
• Material: tinned copper
• Withstand voltage: DC 1000V
• Current: 30A
• Temperature: -20℃-80℃
• Copper ring material: brass and tin-plated
• Aperture: 10mm Thickness: 0.8mm

• SKU: ISE049
• Weight: 0.5KG / 1.1 lb. Suitable for ≥ 300 Watt solar panel
• Application: PV module installation on RV or boat
• Material: Aluminum corrosion-free construction

• SKU: ISE002-B021
• Insulation Material: PPO
• Rated Current: 20A(4mm²)
• Rated Voltage: DC1000V
• Contact Resistance: ≤5mΩ
• Insulation Resistance: >500mΩ
• Operating Temperature range: -40℃ ~ +90℃
• Degree of Protection: IP67
• Flame Class: UL94-V0
• Safety Degree: Ⅱ
• Suitable Single Core Cable Section: 1.5mm² -- 6mm² ( include AWG14, AWG13,AWG12, AWG11,AWG10 )
User Manual
Solar Charge Controller User Manual
BougeRV Warranty & Returns
 Return Policy
1.) If for any reason you are not completely satisfied with your purchase, you can return your purchases within 30 days of receipt, as long as the BougeRV products returned are new, undamaged and unmodified. In this case, BougeRV does not cover shipping costs for returns. If your item does not meet these requirements, we cannot guarantee that your item will be accepted for a return or exchange. 
2.) BougeRV will cover the shipping costs if you were shipped a defective or incorrect product. 

3.) If your purchase is out of stock, we will send you a notification and offer you the option to cancel the order or wait for your order to get back in stock.
4.) Please do not return products without contacting us, as the address on the original package may not be the same as our return address.
5.) Please note that BougeRV does not accept returns with product modifications as modifications to our products void our warranty policy. Any modified product received will be returned at the owner's expense.
6.) If you need further assistance, please contact our customer service at sales@romeosolar.com. We are more than happy to help!
Warranty
Please visit the warranty registration page for more information.