BougeRV | 2899BTU Portable Air Conditioner
Looking for a powerful and convenient way to cool down any room in your home or office? Look no further than the 2899BTU Portable Air Conditioner! With its easy-to-use digital display, programmable timer, and adjustable air flow, this air conditioner is the perfect solution for all your cooling needs.
And thanks to its compact design and caster wheels, you can easily move it from room to room as needed. So why wait? Order your 2899BTU Portable Air Conditioner today and start enjoying cool, comfortable air all year round!
Features
• High-quality Panasonic compressor
• No installation work required
• Convenient carrying with compact size
• Simple control panel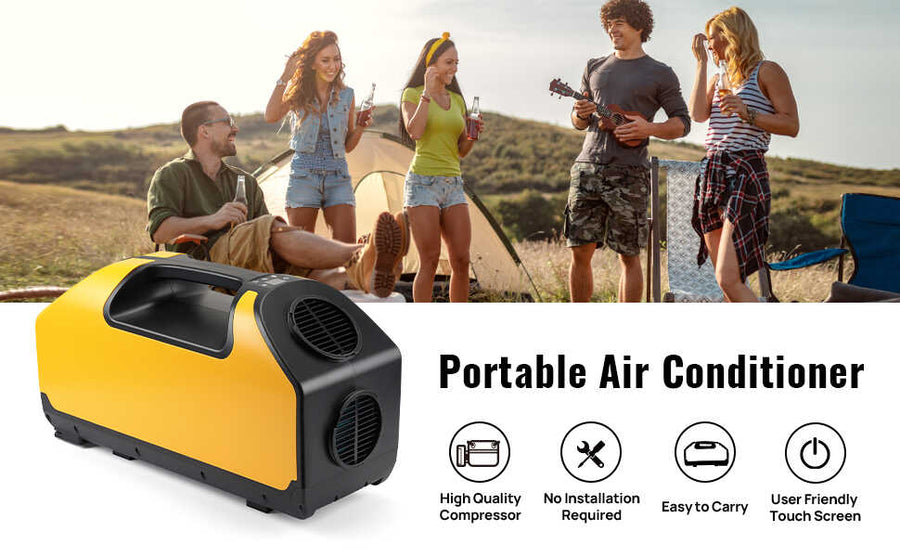 Note:
It can be connected to AC 100~220V home power supply with equipped 360W AC adapter. When you are outside, you can connect it to the portable power station or generator. Do not use a car battery or power inverter to run the air conditioner, otherwise, the battery will be drained or the fuse will be blown.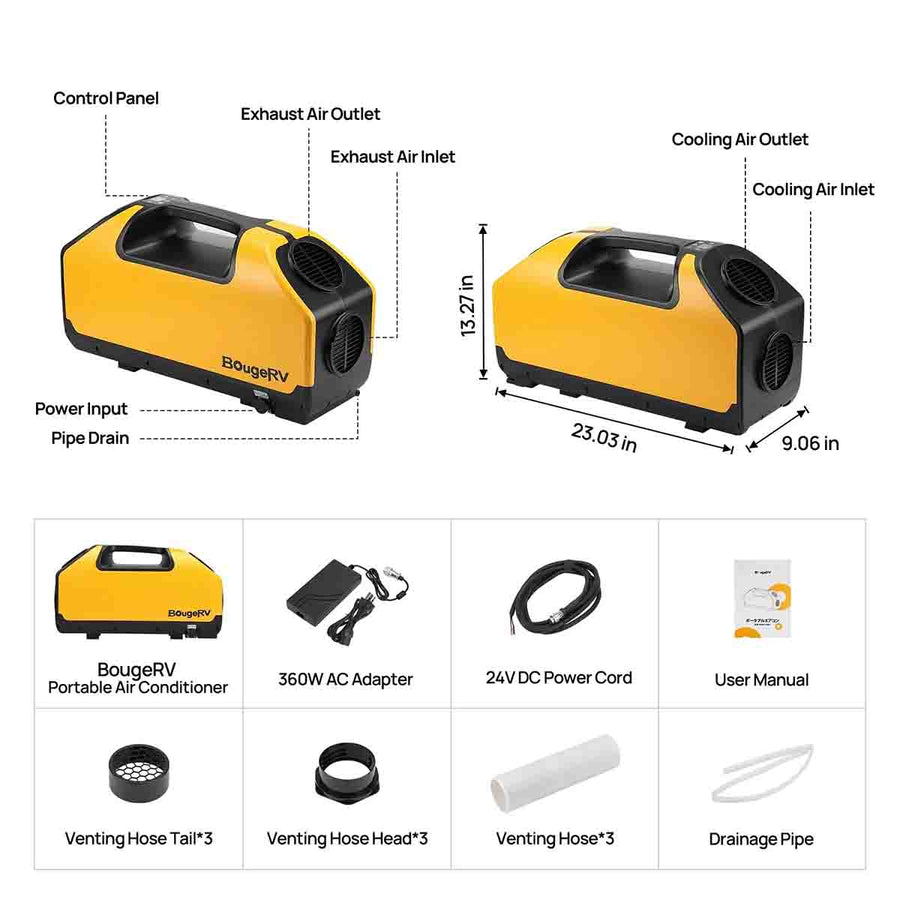 The Perfect Cooling Solution for Your Camping and RV Adventures
Rapidly cools in just a few minutes. With high airflow output, the chilled air is quickly delivered to corners all of a room up to 54 square feet.
Convenient & Portable

Equipped with an ergonomic handle and compact size (23.03*9.06*13.27 in), our BougeRV air conditioner is easily portable. Ideal to use for camping tents, RVs, vans, trailers, and anywhere you need to beat the heat!
Similar To A Home Air Conditioner
The air intake is divided into cold air and hot air inside the unit. Cold air is released into the room and warm air escapes from the exhaust port.
All-in-One Touch Panel
Our AC unit features an easy-to-read monitor and easy-to-operate switch. The temperature can be finely set from 60℉ to 80℉ in one degree increments.
A long press of the "M" button switches the temperature unit between °C and °F.

Powerful Panasonic Compressor
We use a powerful Panasonic compressor, which is more durable and quieter than other AC products on the market, Our powerful AC unit can make camping outdoors cool and comfortable!

Three Blower Speeds
We feature a three-stage air blower of light, medium, and strong speeds which can easily be switched for your needs.

Specs
Product Specifications
• SKU: E0501-07002
• Cooling Capacity: 2899BTU
• Cooling Area: 43-54 Square feet
• Rated Voltage: 24V DC
• Rated Current: 10A
• Refrigerant: R134a
• Sound Level: 45dB
• Product Dimensions: 23.03*9.06*13.27 Inches
• Weight: 23.15 lbs

User Manual
BougeRV Warranty & Returns
 Return Policy
1.) If for any reason you are not completely satisfied with your purchase, you can return your purchases within 30 days of receipt, as long as the BougeRV products returned are new, undamaged and unmodified. In this case, BougeRV does not cover shipping costs for returns. If your item does not meet these requirements, we cannot guarantee that your item will be accepted for a return or exchange. 
2.) BougeRV will cover the shipping costs if you were shipped a defective or incorrect product. 

3.) If your purchase is out of stock, we will send you a notification and offer you the option to cancel the order or wait for your order to get back in stock.
4.) Please do not return products without contacting us, as the address on the original package may not be the same as our return address.
5.) Please note that BougeRV does not accept returns with product modifications as modifications to our products void our warranty policy. Any modified product received will be returned at the owner's expense.
6.) If you need further assistance, please contact our customer service at sales@romeosolar.com. We are more than happy to help!
Warranty
Please visit the warranty registration page for more information.