BougeRV | 220WH Portable Power Station for Refrigerator
The BougeRV 220Wh Portable Power Station is the perfect battery backup for your fridge. With its powerful lithium-ion battery, this battery backup can provide up to 200W of continuous power, making it ideal for running small appliances like mini-fridges or coolers. It also features multiple charging ports, including AC, DC, USB, and Type-C, so you can easily charge your devices while on the go.
Plus, its compact and lightweight design makes it easy to carry and store. Don't let a power outage ruin your food and drinks – get the BougeRV Battery Backup for Fridge today!
Features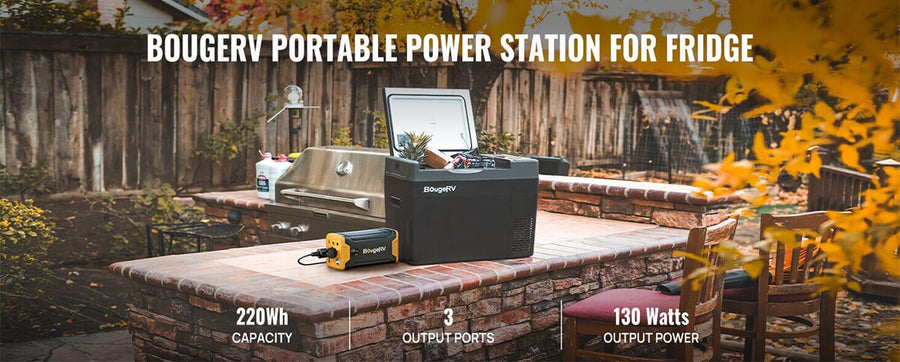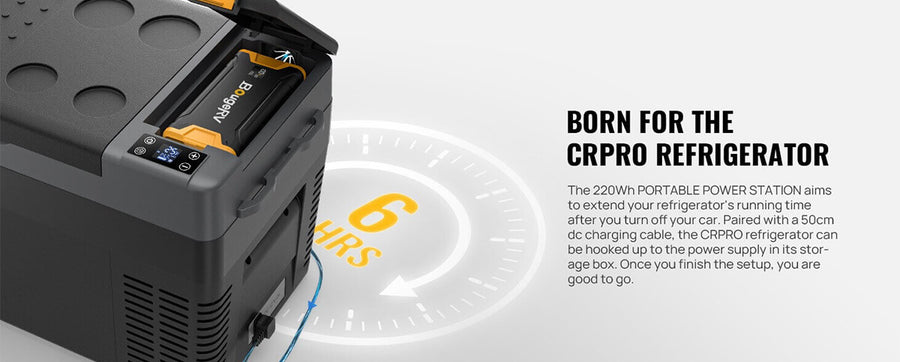 Light Up Everywhere
Dim, Bright, and SOS modes are included, and it also works as a flashlight for outdoor illumination.
Safe Battery System
4 layers of protection design, so that your battery and refrigerator can continue to run safely.
Easy To Monitor
Monitor the remaining power and charging process with ease.
Recharging Time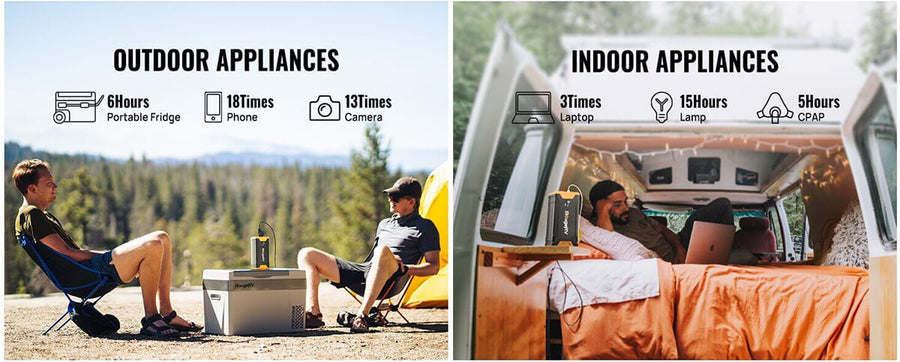 Specs

Product Specifications
• SKU : E0404-02201
• Capacity: 220WH
• Net Weight: 1.5KG/3.3LBS
• Product Dimensions: 7.08*3.3*3 Inches
• Solar Recharge: 12-28V, 6A 100W Max, 2 Hours 0-80%
• Car Recharge: 12V/6A, 72W Max, 3 Hours 0-80%
• AC Recharge: 12.6V/5A, 63W Max, 3.2 Hours 0-80%
• Type-C Recharge: 20V/3A, 60W Max, 3.2 Hours 0-80%
• Car Charging Output: 14.5V/9A, 130W Max
• Type-C Output: 5V/9V/12V/15V/20V, 3A 60W Max
• USB-A Output: R-134a5V/3A, 9V/2A, 12V/1.5A 18W Max
• Discharge Temperature: 14°F to 150°F
• Charge Temperature: 32°F to 130°F

BougeRV Warranty & Returns
 Return Policy
1.) If for any reason you are not completely satisfied with your purchase, you can return your purchases within 30 days of receipt, as long as the BougeRV products returned are new, undamaged and unmodified. In this case, BougeRV does not cover shipping costs for returns. If your item does not meet these requirements, we cannot guarantee that your item will be accepted for a return or exchange. 
2.) BougeRV will cover the shipping costs if you were shipped a defective or incorrect product. 

3.) If your purchase is out of stock, we will send you a notification and offer you the option to cancel the order or wait for your order to get back in stock.
4.) Please do not return products without contacting us, as the address on the original package may not be the same as our return address.
5.) Please note that BougeRV does not accept returns with product modifications as modifications to our products void our warranty policy. Any modified product received will be returned at the owner's expense.
6.) If you need further assistance, please contact our customer service at sales@romeosolar.com. We are more than happy to help!
Warranty
Please visit the warranty registration page for more information.