BougeRV | 200W 12V 9BB Mono Solar Panel
Unleash the full potential of solar energy with our 200W 12V 9BB Mono Solar Panel! Crafted with premium 9BB monocrystalline cells, this panel delivers superior conversion efficiency and features a sturdy aluminum frame that can handle the toughest conditions.
Perfect for off-grid setups such as RVs, boats, and cabins, this panel is a must-have for any solar enthusiast looking to go green and save money.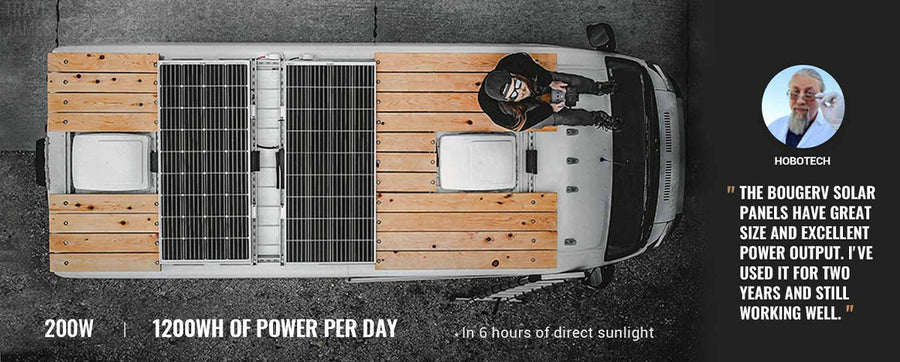 Learn More About BougeRV Solar Panels
Unmatched Conversion Efficiency: Our 9BB cell design boasts the highest conversion rate of 22.8%, ensuring maximum power output and longer service life and allowing you to charge 12V, 24V or 48V batteries by wiring multiple panels in series. Plus, a thinner ribbon reduces the covered area by 22%.
More Power in a Compact Design: Our 200W 9BB mono solar panel is approximately 8% smaller than others, yet generates more power. Compared to 100W panels, it's about 48% larger but produces 200% more power, giving you more power in limited space on your RV, van or trailer roof.
Built to Last in Any Weather: Withstanding winds up to 2400 Pa and snow loads up to 5400 Pa, our 200W 9BB mono solar panel is perfect for cold and challenging outdoor environments.
Easy and Convenient Installation: Pre-drilled holes on the back of the panel make installation quick and easy without the need for heavy tools.
Specs
Product Specifications
• SKU: ISE114
• Model: 200W Solar Panel
• Maximum Power (W): 200±3% W
• Product Dimension (IN): 54.72 x 27.8 x 1.38 inches
• Open Circuit Voltage Vmp (V): 21.62±3% V
• Net Weight (kg / lbs): 10.4kg / 22.93lbs

• Max Power Voltage Vmp (V): 17.98±3% V
• Application Class: Class A

• Max Power Current Imp (A):  11.12±3% A
• Max Static Load (front): 2400 Pa

• Short Circuit Current Isc (A): 12.09±3% A
• Max Static Load (back): 2400pa

• Solar Cells Efficiency: 22.8%
• Series Fuse Rating: 15A
• Product Certification Standard: CE,ETL
• Product Type: Solar Panel

User Manual
FAQ
If I order two 200 watt solar panels panels, will they come in one or two packages?
If you order two panels, they will come in two separate packages. We will provide you with a tracking number once they have been shipped out.
Does the Y-branch parallel connector come with the solar panel? I want to connect three panels in parallel.
Unfortunately, the 200watt solar panel does not come with a Y-branch parallel connector. However, you can search for "Solar Y Branch Connector 1 to 3" on our website if you need one.
Is the IP67 connector waterproof?
Yes, the IP67 connector is waterproof.
Why are 9BB solar panels better than 5BB solar panels?
The advantages of 9BB solar cells are that they have less internal resistance loss than 5BB solar cells, can reduce the impact of micro-cracks, and have a thinner busbar and larger light-receiving area, resulting in more power output.
What causes 200 watt solar panel low output and how can I solve it?
The low output power of 200watt solar panels is mainly affected by low light intensity, unsuitable light angles, and shadow occlusion. To prevent shadows, adjust the solar panels and make them point directly at the sun during daily use, and clean the solar panel regularly to remove obstructions such as bird droppings, dust, and garbage.
Is the output really 170W? Similar panels don't seem to get more than around 100W?
This 180W (200W) solar panel is larger than an ordinary 100W panel and has more solar cells. We developed this product with power output and the scene in mind, and we hope it meets your expectations. The output voltage of solar panels is affected by the light angle (vertical irradiation angle is the most efficient), light intensity (greater intensity results in higher output), and shadow exposure (larger shadows reduce panel output).
BougeRV Warranty & Returns
 Return Policy
1.) If for any reason you are not completely satisfied with your purchase, you can return your purchases within 30 days of receipt, as long as the BougeRV products returned are new, undamaged and unmodified. In this case, BougeRV does not cover shipping costs for returns. If your item does not meet these requirements, we cannot guarantee that your item will be accepted for a return or exchange. 
2.) BougeRV will cover the shipping costs if you were shipped a defective or incorrect product. 

3.) If your purchase is out of stock, we will send you a notification and offer you the option to cancel the order or wait for your order to get back in stock.
4.) Please do not return products without contacting us, as the address on the original package may not be the same as our return address.
5.) Please note that BougeRV does not accept returns with product modifications as modifications to our products void our warranty policy. Any modified product received will be returned at the owner's expense.
6.) If you need further assistance, please contact our customer service at sales@romeosolar.com. We are more than happy to help!
Warranty
Please visit the warranty registration page for more information.