BougeRV | 2000W 12V Pure Sine Wave Inverter
The BougeRV 2000W 12V Pure Sine Wave Inverter is a high-quality and efficient power inverter that converts DC power from your battery to AC power, allowing you to power your household appliances and electronic devices while on the road or off-grid.
Its pure sine wave output ensures that your devices run smoothly and without any noise or interference. With its compact and durable design, the BougeRV 2000W 12V Pure Sine Wave Inverter is the perfect solution for all your off-grid power needs.
Features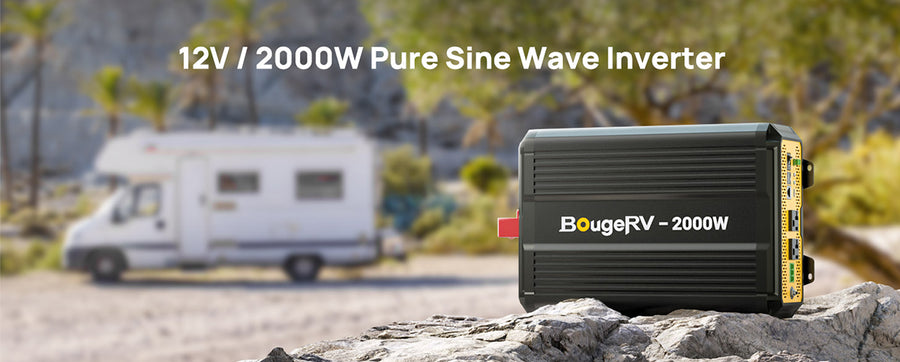 Learn More About BougeRV's Inverter
Built-in Bluetooth for Mobile APP
2000W 12V Pure Sine Wave Inverter comes with a built-in Bluetooth communication function, allowing users to monitor operating data of the battery and appliances through a mobile app at any time. The Bluetooth acceptance range is 10M (barrier-free).
ON/OFF/ECO Operating Modes
The energy-saving mode with intermittent AC output maximizes power saving of the battery. When the load power is lower than the ECO starting power (default 30W), the inverter will automatically close the AC output and enter idle mode. The AC output will restart after an interval of one minute. The inverter will continue AC output continuously if the load power is larger than the ECO starting power (+10W).
Safe and Reliable
2000W 12V Pure Sine Wave Inverter features six multiple protection functions, including input overvoltage protection, input low voltage protection, output overload protection, output short circuit protection, over temperature protection, and cooling fan fault protection. The circuit safety is always monitored and protected through LED indicators and alarm sounds.


2 Cooling Fans
Equipped with two cooling fans, 2000W 12V Pure Sine Wave Inverter can adjust temperature intelligently, ensuring that appliances work stably. The temperature adjustment range is from 104℉ to 149℉. Despite having fans, the noise level remains low (≤ 60dB).
Specs
Product Specifications
• SKU ISE163
• Rated power 2000W
• Rated output efficiency >89%
• Surge power 4000W
• Loss when no load <0.1A
• Input voltage DC 12V
• Standby / ECO current <0.2A
• Rated output voltage AC 110V ± 3%
• ECO interval time 1 min
• Output frequency 60Hz ± 0.2%
• Operating ambient temperature -4°F - 140°F
• Output waveform
• Pure sine wave Noise ≤60dB
User Manual
FAQ
What are the precautions to take before using the BougeRV 2000W 12V Pure Sine Wave Inverter?
Before using the BougeRV pure sine wave inverter, you should make sure that the appliance's power does not exceed the rated power of the inverter. Additionally, the battery used should be 12V, and the red wire should be connected to the positive pole, while the black wire should be connected to the negative pole.
How long can the 1100Wh power my device?
You can use the formula to calculate: 1100WH * 0.9 / operating power of your device. The duration of our equipment is based on laboratory data, and the duration of specific equipment used may vary.
Can I use 2000W 12V Pure Sine Wave Inverter to charge my batteries?
No, the BougeRV DC 12V to AC 120V inverter can only convert DC power to AC power.
Why isn't the green light flashing in the standby state of the inverter after it's connected to the battery?
If the green light isn't flashing in the standby state of the inverter, it could mean that there's a problem with the line contact. To fix this issue, you should reconnect the battery and the inverter.
How can I check the power consumption of 2000W 12V Pure Sine Wave Inverter?
This inverter comes with a built-in Bluetooth module that allows you to set and view parameters on a mobile app.
BougeRV Warranty & Returns
 Return Policy
1.) If for any reason you are not completely satisfied with your purchase, you can return your purchases within 30 days of receipt, as long as the BougeRV products returned are new, undamaged and unmodified. In this case, BougeRV does not cover shipping costs for returns. If your item does not meet these requirements, we cannot guarantee that your item will be accepted for a return or exchange. 
2.) BougeRV will cover the shipping costs if you were shipped a defective or incorrect product. 

3.) If your purchase is out of stock, we will send you a notification and offer you the option to cancel the order or wait for your order to get back in stock.
4.) Please do not return products without contacting us, as the address on the original package may not be the same as our return address.
5.) Please note that BougeRV does not accept returns with product modifications as modifications to our products void our warranty policy. Any modified product received will be returned at the owner's expense.
6.) If you need further assistance, please contact our customer service at sales@romeosolar.com. We are more than happy to help!
Warranty
Please visit the warranty registration page for more information.