BougeRV | 12V 53 Quart (50L) Portable Car Freezer
Learn More About BougeRV's Portable Car Freezer
Features
Large Capacity
BougeRV's 12V Portable Refrigerator can serve you and your family enough food for an entire week's trip. With temp. range from -4 ℉~50℉, you can use it as a freezer or refrigerator.
Fast Cooling
With compressing refrigeration technology, this 12V car freezer could achieve 16 min fast cooling from 77℉ to 32℉ and 50 min from 77℉ to -4℉, keeping your food fresh. No ice needed, no food spoiled, saving you both money and space.

2 Years Warranty
With CE and FCC certifications, we guarantee you a 2-year warranty for the compressor and accessories. If you have any questions, please reach out to us.
45W Low Power Consumption
With ECO energy saving mode, the 53 Quart car fridge's operating power is less than 45W. Even running on MAX mode, it consumes far less than 1kwh/day for its intelligent cycle work. You can run this car fridge with 12/24 V DC power on various vehicles, such as an SUV, truck, RV, camper, Jeep, van, or boat.
45dB Low Noise & Battery Protection
The truck freezer is designed for minimal noise and comes equipped with a 3-level battery monitor to prevent the fridge from draining your vehicle's battery.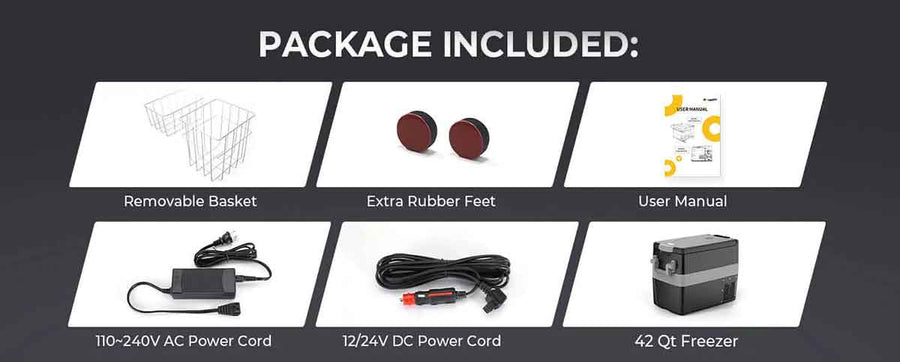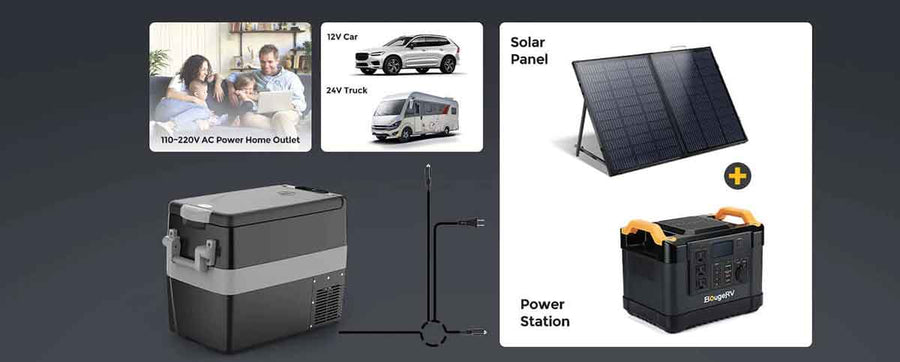 *The power station and solar panel are not included with a purchase of the freezer. The above graphic simply shows how the cooler can be used together with these items.
Specs
Product Specifications
• SKU A3001-00702
• Capacity: 53 Qt=50 L=1.77 cu. ft.
• Dimension: 25.74*13.58*20.75 inches
• Temperature Range: -4℉~68℉
• Weight:45.9 LB
• Voltage:12/24 V DC OR 110~240 V AC
• Wattage:MAX MODE 60W, ECO MODE 45W
• Noise: ≤45 dB
• Freezing zone: 40 L
• Refrigeration zone: 10 L


User Manual
BougeRV Warranty & Returns
 Return Policy
1.) If for any reason you are not completely satisfied with your purchase, you can return your purchases within 30 days of receipt, as long as the BougeRV products returned are new, undamaged and unmodified. In this case, BougeRV does not cover shipping costs for returns. If your item does not meet these requirements, we cannot guarantee that your item will be accepted for a return or exchange. 
2.) BougeRV will cover the shipping costs if you were shipped a defective or incorrect product. 

3.) If your purchase is out of stock, we will send you a notification and offer you the option to cancel the order or wait for your order to get back in stock.
4.) Please do not return products without contacting us, as the address on the original package may not be the same as our return address.
5.) Please note that BougeRV does not accept returns with product modifications as modifications to our products void our warranty policy. Any modified product received will be returned at the owner's expense.
6.) If you need further assistance, please contact our customer service at sales@romeosolar.com. We are more than happy to help!
Warranty
Please visit the warranty registration page for more information.