BougeRV | 12V 30 Quart (28L) Portable Fridge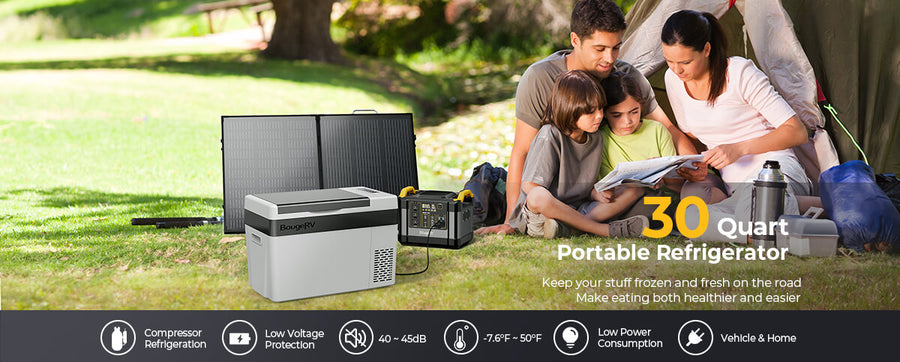 Learn More About the BougeRV Portable Fridge
Made with the advanced compressor refrigeration technology that ensures your food stays fresh, achieving rapid cooling in just 16 minutes. Say goodbye to spoiled food and hello to long-lasting freshness on all your outdoor adventures.
Energy-Saving ECO Mode
With the ECO mode, the BougeRV Portable Refrigerator consumes less than 45W of power, making it an energy-efficient solution for all your outdoor adventures. The MAX mode uses a smart cycle work that consumes less than 1kWh per day, ensuring minimal power usage while keeping your food and drinks cold.
12/24V DC
Suitable for cars, SUVs, trucks, RVs, campers, jeeps, vans, ships, and other vehicles with a 12/24V DC power supply.
Shockproof Design
With its shockproof design, there will be no problems when tilting 30° off-road.
3-Stage Charger
Equipped with a 3-stage charger of the battery monitor to prevent the refrigerator from consuming the vehicle's battery. 

Specs
Product Specifications
• SKU A3001-02803
• Capacity: 30 QT = 28L = 0.99 cu. ft.
• Dimension: 22.68*12.60*15.55 inches
• Temperature Range: -7℉~50℉
• Weight:22.8 LB
• Voltage:12/24 V DC OR 110~240 V AC
• Wattage:MAX MODE 60W, ECO MODE 45W
• Noise: ≤45 dB
• Refrigerant: R134A
• Product Type: 12V Refrigerator


User Manual
FAQ
Where is the temperature sensor/reader located inside of the actual fridge ?
It is inside the bubble layer at the bottom of the refrigerator.

Can I turn this on right away after it being shipped or should I wait a few hours?
Once unpacked and before turning on, the fridge must be placed on a level surface for more than 6 hours.
How does this 12V refrigerator compare to a home refrigerator?
12V refrigerator freezers contain so many great features that your home kitchen might be jealous. In addition to anti-vibration, convenience, plug and play, they are also feature fast cooling, and energy efficiency.

Is a 12V fridge worth it?
There's no denying the price of 12V portable refrigerators may make you hesitate, but there's no questioning their benefits when you actually use them. Ultimately, whether you decide to invest will depend on how often you camp, where you camp, and the travel time you spend.

Should the compressor run all the time or turn on and off in cycles?
When the refrigerator reaches the set temperature, it will automatically stop, and it will start again when the temperature returns to 2 to 3 degrees. This is the energy-saving function of our refrigerator.
How many Amps does a 12V fridge use?
A 12V refrigerator usually uses 30-55 Amps/h on average per day. The BougeRV 1100Wh portable power station allows you to run a 12V portable fridge for at least a whole day. However, a portable fridge will consume a lot of battery power when used at high ambient temperature or without pre-cooling.
Can I charge the 30 quart refrigerator directly with a solar panel?
It can't be used directly with solar panels. The voltage of the solar panel is constantly changing, which will affect the normal working performance of the refrigerator after connection.
BougeRV Warranty & Returns
 Return Policy
1.) If for any reason you are not completely satisfied with your purchase, you can return your purchases within 30 days of receipt, as long as the BougeRV products returned are new, undamaged and unmodified. In this case, BougeRV does not cover shipping costs for returns. If your item does not meet these requirements, we cannot guarantee that your item will be accepted for a return or exchange. 
2.) BougeRV will cover the shipping costs if you were shipped a defective or incorrect product. 

3.) If your purchase is out of stock, we will send you a notification and offer you the option to cancel the order or wait for your order to get back in stock.
4.) Please do not return products without contacting us, as the address on the original package may not be the same as our return address.
5.) Please note that BougeRV does not accept returns with product modifications as modifications to our products void our warranty policy. Any modified product received will be returned at the owner's expense.
6.) If you need further assistance, please contact our customer service at sales@romeosolar.com. We are more than happy to help!
Warranty
Please visit the warranty registration page for more information.