BougeRV | 12V 1280Wh/100Ah | Self-Heating LiFePO4 Battery
Features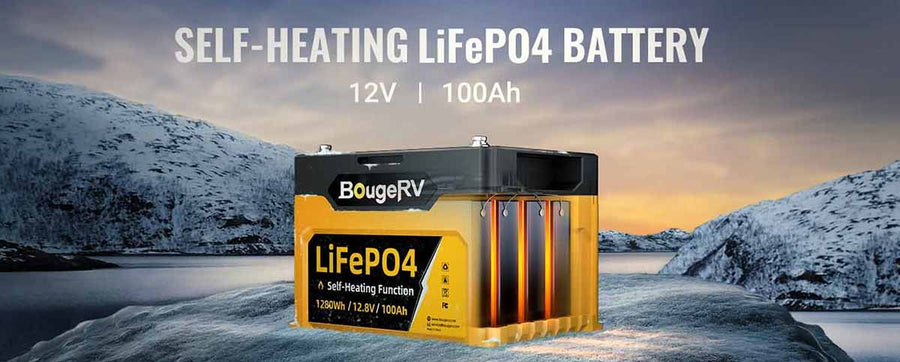 Learn More About BougeRV's Self-Heating LiFePO4 Battery
Self-Heating
Our 12V LiFePO4 Battery is packed with safety features, including low-temperature cut-off protection and a self-heating function. The low-temperature cut-off protection prevents damage to the battery when temperatures drop below 32℉, while the self-heating function activates during charging when temperatures drop below 33.8℉. These features make it safe to use in colder climates and during winter.
Long-Lasting
The battery is built using premium LiFePO4 technology and boasts over 4000 recharge cycles, 100% discharge rate, and a 10-year lifespan. Lithium batteries are more compact and have a larger capacity than lead-acid batteries, which only offer 500 recharge cycles and a 50% discharge rate.
Lightweight
Weighs only 27 lbs, which is 50% lighter than a lead-acid battery with the same capacity. It also has four fixable holes, so you can easily install screws and securely fix the battery for RVs, Marine, and Off-Grid Applications--it won't slide. Additionally, you can easily move it with handles on both sides.
Expandable Battery Bank
Our 12V LiFePO4 Battery can support up to 16 batteries and has a maximum capacity of 20480Wh. A built-in BMS protection system ensures balanced voltage during charging and discharging for added safety.
Specs
Product Specifications
• SKU: ISE144
• Nominal Voltage: 12.8V
• Heating Rated Power: 60W
• Nominal Capacity : 100Ah
• Cycle Life : 4000 times (The remaining battery capacity after 4000 cycles is ≥ 80% of the initial battery capacity).
• Charge Voltage : 14.1V
• Over-Charge Voltage : ≥14.8V (Adjust the charging voltage below 14.8V to resume charging)
• Energy : 1280Wh
• Over-Discharge Voltage : 9.40±0.32V
• Standard charge : 50A(0.5C)
• Max. Series Voltage Of Packs : 48V
• Rapid charge : 100A(1.0C)
• Max. Parallel Current Of Packs : 400Ah
• Self-Heating Starts: ≤33.8℉ (only charging is on)
• Internal resistance : ≤30mΩ
• Self-Heating Stops : ≥46.4℉
• Self-discharge : 3%
User Manual
FAQ
What type of equipment is suitable for charging the battery?
There are two options for charging the battery.
Firstly, you can connect a solar panel to a solar charge controller (MPPT/PWM) and ensure that the system voltage of the controller is 12V.
Secondly, you can use a charger that supports LI battery charging.
Will the self-heating feature consume battery power?
No, the battery will only activate the self-heating feature when it is being charged (≤33.8 °F to turn on the self-heating, ≥46.4 °F to turn off the self-heating). Therefore, the self-heating feature will only use the input power and not the power from the battery.
How can I maintain the battery in my daily use?
To prolong the battery lifespan, do not discharge it below 10V. Additionally, the battery needs to be fully charged every 3-6 months to prevent over-discharging. 
What should I do if the battery malfunctions during use and the voltage is too low to charge?
If the voltage is too low to charge the battery, you can use a charger with a 0V function to charge the battery from 0V. However, note that the 0V charger cannot be used as a daily charger after the battery is fully charged.
BougeRV Warranty & Returns
 Return Policy
1.) If for any reason you are not completely satisfied with your purchase, you can return your purchases within 30 days of receipt, as long as the BougeRV products returned are new, undamaged and unmodified. In this case, BougeRV does not cover shipping costs for returns. If your item does not meet these requirements, we cannot guarantee that your item will be accepted for a return or exchange. 
2.) BougeRV will cover the shipping costs if you were shipped a defective or incorrect product. 

3.) If your purchase is out of stock, we will send you a notification and offer you the option to cancel the order or wait for your order to get back in stock.
4.) Please do not return products without contacting us, as the address on the original package may not be the same as our return address.
5.) Please note that BougeRV does not accept returns with product modifications as modifications to our products void our warranty policy. Any modified product received will be returned at the owner's expense.
6.) If you need further assistance, please contact our customer service at sales@romeosolar.com. We are more than happy to help!
Warranty
Please visit the warranty registration page for more information.