BougeRV | 1120Wh Portable Backup Power Kit
Features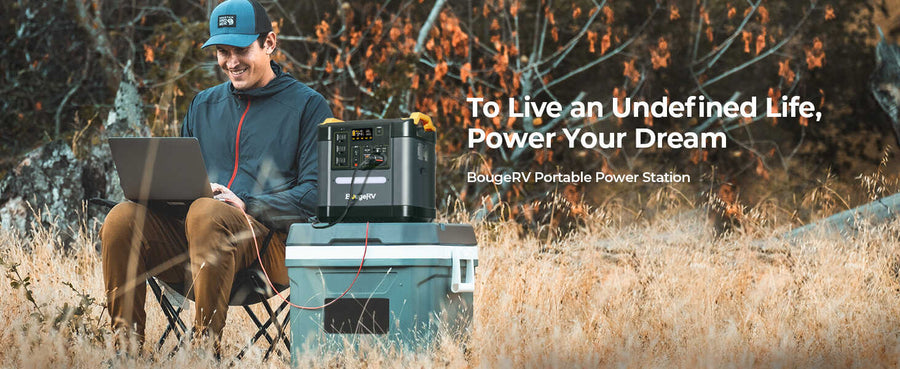 Learn More About the BougeRV Power Station
Premium LiFePO4 Battery, Safe & Reliable
With a big capacity of 1120Wh, the BougeRV Fort 1000 portable power station utilizes a powerful LiFePO4 battery, with a 3500+ cycle life. Also features a built in advanced BMS system, so the LiFePO4 power station can keep your battery running for years.
Intuitive LED Screen
Keep track of important information as you charge.
Diverse Output, Power Your Essentials
Our power station can power all your appliances with 1200W output. Great for AC household appliances or large electrical devices on trips, camping or work sites, such as full-size refrigerators, CPAP machines, TVs, heaters, electric grills, electric blankets, smartphones, laptops, and more.
Key Features of the Foldable Solar Panel
 
Lighter & Portable
The solar panel folded is only 26.6*21.3*2.2 inches, easy to store and carry. Made of ultralight material (PET), it only weighs 10.36 lbs. The corner protection design of the frame and the spring-loaded butterfly twist latch buckle protects the solar panel.

Waterproof & Stable
The waterproof design of the solar panel meets IP67 standards and is fit for various weather conditions. The solar panel is equipped with adjustable brackets, which can be easily placed on uneven ground. 
Specs
Product Specifications
• SKU : ISE120N(KIT120N)
• Battery LiFe: PO4 Battery
• Cycle Life:  3500+ Cycles to 80% Capacity
• Capacity : 1120Wh
• Product Warranty:  12-Months
• DC5521 Recharge : 25V, 8A 200W Max
• USB-A Output : 2 x 5V/2.4A, 12W
• PV Solar Recharge:  12-30V,8A 200W Max
• USB-A QC3.0 Output:  1 x 5V/3A, 15W; 9V/2A, 18W
• USB-C Recharge : 20V, 3A 60W Max
• USB-C Output : 1 x 5V 3A / 9V 3A / 12V 3A / 15V 3A /20V 3A, 60W Max
• AC Output: 3 x 110V, 1200W (2000W Peak) Pure Sine Wave
• Product Dimension : 12.59*9*11 Inches (LxWxH)
• Cigarette & DC5521 Output : 2 x DC5521, 1x Cigarette Port, 12V, 10A 120W Max Total

• SKU: ISE118N
• Maximum Power (Pmax) : 130W
• Solar cells Efficiency : 23.5%
• Max. Power Voltage (Vmp) : 19.02V
• Max. Power Current (Imp:  6.83A
• Open Circuit Voltage(Voc): 22.4V
• Short Circuit Current(Isc): 7.59A
• Max. System Voltage: 10A
• Weight: 13.56 lbs(6.15 kg)
• Product Dimensions(folded): 26.6*21.3*2.2 in (675*540*55mm)
• Product Dimensions(unfolded): 26.6*42.5*1 in (675*1080*25mm)
• Package diameter: 28.7*24.2*3.2 in (728*615*82mm)
• Operating Temperature Limits: -40°F~+185°F
• Max.system voltage(V): 1000V DC
• Package: 1* 130W Solar Panel 1* Storage bag 1* Solar Conversion Cable (Solar to DC) 1* User Manual

User Manual
FAQ
What matters should I pay attention to in daily use?
If a low-battery warning appears, charge the product before storing it. Otherwise, long-term storage may cause damage to the batteries in the product. Batteries will enter hibernation mode if they are depleted and stored for a long time.
How long can the power station power my device?
You can use this formula to calculate: 1456Wh * 0.9/operating power of your device. The duration of our equipment is based on laboratory data, and the duration of specific equipment used may vary.
What else should I pay attention to in order to prolong product life?
1. Please keep the power station fully recharged at least once a month, 0%-100%.
2. Please recharge the power station, when the capacity on the display is less than 20%.
BougeRV Warranty & Returns
 Return Policy
1.) If for any reason you are not completely satisfied with your purchase, you can return your purchases within 30 days of receipt, as long as the BougeRV products returned are new, undamaged and unmodified. In this case, BougeRV does not cover shipping costs for returns. If your item does not meet these requirements, we cannot guarantee that your item will be accepted for a return or exchange. 
2.) BougeRV will cover the shipping costs if you were shipped a defective or incorrect product. 

3.) If your purchase is out of stock, we will send you a notification and offer you the option to cancel the order or wait for your order to get back in stock.
4.) Please do not return products without contacting us, as the address on the original package may not be the same as our return address.
5.) Please note that BougeRV does not accept returns with product modifications as modifications to our products void our warranty policy. Any modified product received will be returned at the owner's expense.
6.) If you need further assistance, please contact our customer service at sales@romeosolar.com. We are more than happy to help!
Warranty
Please visit the warranty registration page for more information.